Four Compelling Reasons Why You Should Install Outdoor Lighting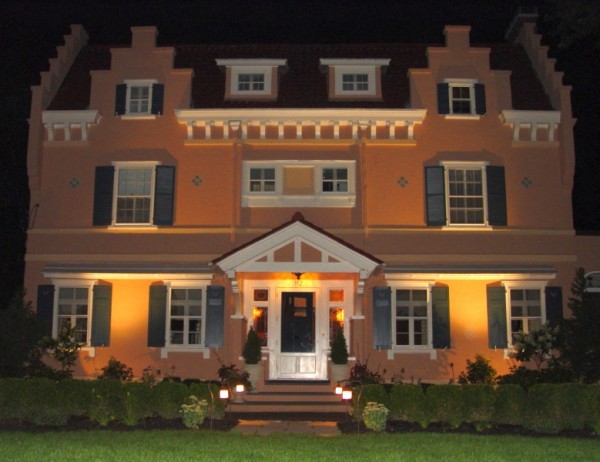 Even though the holidays might be over, it doesn't mean the lights have to go out at your house. In fact, simply adding a few strategic outdoor lights around your property can make a huge difference—almost like night and day.
You obviously wouldn't want to keep using those colorful Christmas lights, but you can replace those with spotlights, path lights, fiber optic lighting and much more.
If you're still on the fence about adding outdoor lighting to your house, here are five benefits that will have you calling us for a consultation today.
Makes your house look beautiful at night
It doesn't matter how beautiful or majestic your property is during the day; when a house is dark at night, it's generally unattractive. This can be easily remedied with a few strategically placed lights around your yard. Outdoor lighting instantly transforms your home into a lively and warm destinations.
Dark, vague shadows become alluring accents around trees and shrubbery. Your admirable landscape will look just as good as it does in the day.
Increases the value of your home
Outdoor lighting is an easy and inexpensive way to raise the profile and value of your home by making it look beautiful at all times of the day. According to this article from MSN, exterior lighting on a home can add up to 20% to the perceived value of a home. That can be a lot of money for a little bit of work.
Deters burglary
A dark house may look uninviting to some, but it definitely looks appealing to burglars. Motion-sensing lights and outdoor lighting in general frightens off vandals and those with ill intentions. These aren't just empty assumptions either. According to Trenton Light and Water Company, "a two-year lighting study done in Washington, D.C. shows 44% decrease in burglary and a 22% decrease in vandalism after the installation of outdoor lighting."
There's no doubt outdoor lighting will give you peace of mind.
Pathways are easier to see
Finally, outdoor lighting can act in a way similar to a flashlight by illuminating a dark area. You no longer have to worry about accidentally stepping off the walkway into the wet grass and your guests who might be unfamiliar with your property will have an easier time navigating it.