The Benefits of Installing Raised Patios
Raised patios provide versatile options for New Jersey homeowners looking to enhance the outdoor space in their home. This is due to the fact that this form of patio construction can be implemented in just about any space, in any style and in any size, with virtually no limitations. There are a number of benefits that raised patios offer in comparison to other types of patio and deck construction.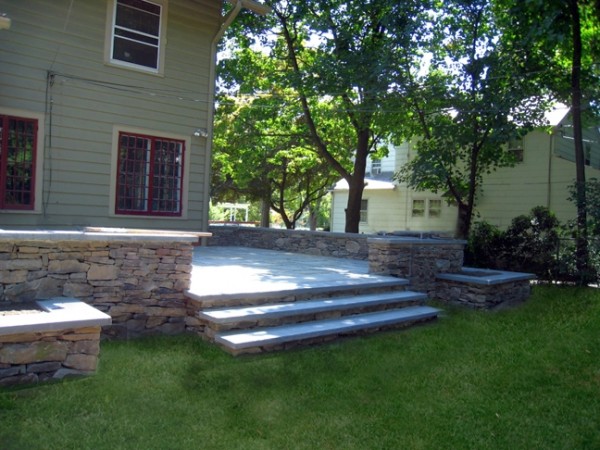 Below we outline some of the biggest benefits:ments of your landscape:
Endless Design Options – One of the greatest benefits of raised patios as compared with traditional deck installation or replacement is the endless design options. They can be designed in almost any shape, size or style and can be situated in virtually any location. There is no need to be constrained by the grading of the surrounding landscape during the design. When creating a raised patio design, options can include multiple levels, steps, curved edges, incorporated seating and more. And since most raised patios only sit a short distance off the ground, there is no need to include railings in the design, making it easy to design a space that flows freely into the surrounding landscape.
Minimal Construction Constraints – Raised patios can be constructed in areas that lack uniform grading or those that do not come in contact with the surrounding landscaping. They can be installed in almost any space with few constraints. Other amenities are also easily incorporated are outdoor kitchens, built-in benches, pergolas and more.
Numerous Material Choices – There are many material choices to be considered including pavers, interlocking blocks, natural stone and poured concrete work well for the base of the patio. Stacked stone, faux or natural stone veneer, natural stone, bricks, blocks, pavers and concrete can be utilized to create retaining walls, steps and other prominent features. Any material that can be used to create a patio situated directly on the ground can be used to create a raised patio. The primary difference in installation is the amount of base material that is laid under the patio paving materials, as well as any additional side walls or steps that are required to transition the patio towards the surrounding landscape.
Low or No Maintenance Requirements – Raised patios offer an easy, maintenance free outdoor space that can be enjoyed for years and years. Unlike wood decking, there is no staining, painting or sealing that needs to be done on a periodic basis. And unlike a patio that is situated directly on the ground, there are no issues with weed growth to contend with. All that is typically required is a periodic cleaning to keep the patio material, whether stone, concrete or pavers, looking its best and keeping it free from the accumulation of mold or mildew.
Cost Savings – The cost of installation is typically lower than that of installing a similar sized deck. As an added bonus, there are almost no maintenance requirements, keeping the long-term costs significantly lower than decks.
Adding a raised patio to your outdoor landscape design can be the perfect finishing touch to your outdoor space, providing more usable entertaining space and offering a beautiful transition from the steps of your home into the surrounding yard.
If you are thinking about installing a raised patio in your New Jersey backyard, speak to the professionals at Grandview Outdoor for design advice, as well as information about material choices, construction options, pricing and more. Call us (973) 601-1114.