Retaining Wall Design & Installation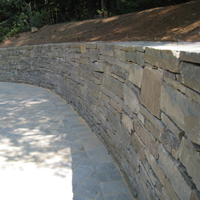 A high-quality retaining wall will not only hold back sloping soil and assist in drainage, it can also add another stylish element to your overall landscape. At Grandview, we specialize in attractive retaining wall design concepts.
Most walls in New Jersey don't require engineering if the wall is four feet or shorter. For walls taller than four feet, we can sometimes install two walls of a smaller height to save you money. With Grandview, you can eliminate excessive permit fees and professional fees for landscape architects, which we perform in-house as a landscaping design and installation company.
Whether you're seeking a decorative landscape retaining wall or a more simple design, our retaining wall construction team from Morris County can craft the perfect design that highlights your property's beauty.
Our retaining walls are available in a wide variety of styles:
Interlocking retaining wall
Cement retaining wall
Poured concrete retaining wall
Block retaining wall
Tiered retaining wall
Cinder block retaining wall
Allan block wall
Anchor retaining walls
Fieldstone retaining wall
Gabion retaining wall
Grass retaining wallNatural stone veneer wall
Stacked stone wall
Seat wall
To get started today, contact us and we'll send one of our designers to analyze your wall and determine what makes the most structural and visual sense for your property. Checkout our portfolio for retaining wall ideas and read our client testimonials.