Considerations When Designing an Ideal Outdoor Kitchen
Whether you live in a place where there's perfect weather year-round or you enjoy the social nature of summer, installing an outdoor kitchen in your backyard is the perfect way to instill a sense of community and fun in your property. Even though some companies will come in and help you decide what type of outdoor kitchen would be best for you, there are still a few things to take into consideration.
Here are four things to consider when designing or picking the perfect outdoor kitchen.
Purpose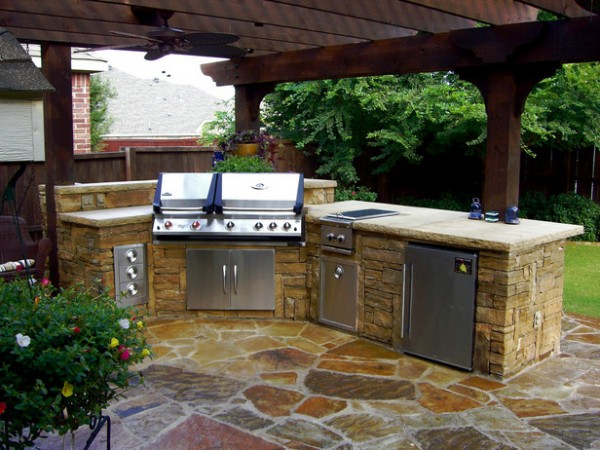 Before picking anything, you should carefully think about the purpose of the outdoor kitchen. Are you getting it so you can host intimate dinner parties or giant summer bashes? Are you planning on using it only for romantic dinners or group picnics?
By deciding on how the kitchen will be used, you will be able to determine its size, style and function. If you're not sure, there are general designs that will accommodate any need or purpose.
Location
Where you place your outdoor kitchen is extremely important. There are a few things you should find out before deciding where it will go, including which direction the wind comes through and how much shade the kitchen will get during different times of day. The worst thing would be to place your kitchen in a windy area of your yard that's in direct sunlight.
Accessories
Outdoor kitchens range from huge outdoor countertops with a stove and sink to a small area with a grill and table. What types of accessories you include in your outdoor kitchen depends on its purpose and how you intend to use it. If you're going to do serious cooking, a large grill with a sink, side burners and cocktail station is recommended. If you're having the kitchen as more of a social place, opt for more seating space.
Lighting and Ambiance
Just as important as the types of accessories you have and the location, the lighting and ambiance make or break an outdoor kitchen. Is there a place to add fans or heaters when the weather isn't being amenable to your outdoor kitchen and is the area properly lit? If not, these are important aspects of an outdoor kitchen you need to consider adding.
For more information on adding an outdoor kitchen to your yard, contact us today or look at our outdoor kitchen page.