Blog
Tips for Conserving Water Outside Your Home
Last week, we wrote about the importance of having a proper drainage system on your property, but even though having water in the wrong places can be detrimental to your yard, water is also the life force that makes your landscape come alive.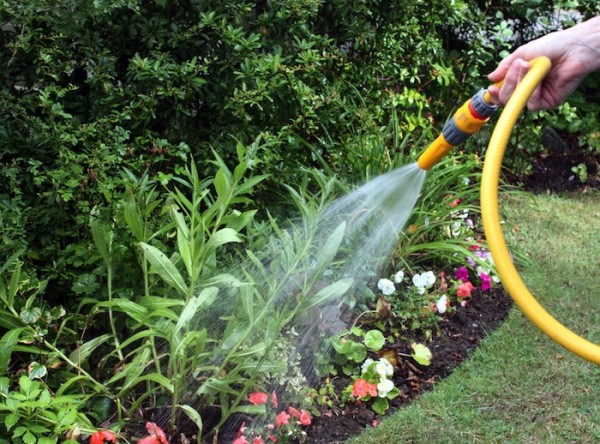 The arrival of spring planting season in New Jersey means there's much higher water demand, since people are trying to rejuvenate their lawns after a long winter.
According to a recent article in the News Transcript, the demand for water has been increasing in Monmouth County over the past 100 years, even though the water supply in the state has remained the same. It's not hard to extrapolate the data and figure that the whole state's water usage has been steadily rising the past 100 years.
So in the interest of protecting the natural resources of New Jersey and encouraging green living, here are some tips for conserving water this spring.
Water lawn only when needed
With spring here, it's only natural to want to start fostering a lush and beautifully green lawn through consistent watering. However, it's not necessary to water your lawn every single day. According to the New Jersey Department of Environmental Protection, New Jersey lawns only need about an inch of water each week, with most of it already being received from rainwater. To test whether your lawn needs watering, step on the grass. If the grass pops back up, it doesn't need water.
Only water in the early morning
When your lawn does need watering, you should only do it in the early morning. If you water your lawn during the afternoon, the water will evaporate before it seeps into the soil, thereby forcing you to water even more.
Plant native species
We wrote about this at length in our post on making your landscape eco-friendly, but it's important to state again. Planting species native to New Jersey in your yard helps conserve water because they're used to the landscape and require less supplementary water.
Put a cover on your pool
If you have a pool, you should put a cover on top when you're not using it. This has multiple benefits. First, a cover will prevent water from evaporating during the middle of the day. Second, a cover can act as a pool heater, so you don't have to artificially heat the pool when you want to use it.
Keep your lawn between 2.5 to 3 inches tall
It's very tempting to keep your lawn really short and trim throughout spring and summer, but it's actually bad for your lawn and water conservation. If the grass is cut shorter than two inches, it becomes less drought resistant because there's less cover from the sun. It also becomes more susceptible to damage.